There are several whitening techniques
you can try at home to save some money (and time!) Please make sure you consult with your doctor before trying any home remedy. Brushing with baking soda or hydrogen peroxide (or sometimes both) are popular suggestions. However, baking soda is a harsh abrasive and you risk taking the enamel right off your teeth with repeated use. And we do not recommend brushing with hydrogen peroxide. While most whitening gels use some concentration of hydrogen peroxide, it is controlled. Brushing with the chemical yourself is risky as you could inadvertently ingest it.
We recommend some more natural, and safer,
preventative methods in keeping your teeth their whitest. Many fruits are natural tooth cleaners. Apples and especially good to keep teeth their cleanest. Drink as much water as possible, and stay away from sodas - even diet. Acids in sugary drinks wear away your enamel, showing your dentin, which is yellowish in color naturally. Tap water especially has fluoride that strengthens your enamel - covering up more of the yellow dentin. And of course, reducing coffee and tea intake and quitting smoking will stop the yellowing effects dead in their tracks - so you can start your new healthy life with an equally looking healthy smile.
How much does teeth bleaching cost?
Because of the wide variety of options you have when exploring teeth bleaching, you can choose to pay as little as $4.00, or as much as a $2000.00. Obviously, your results are going to vary on this spectrum,...
Read More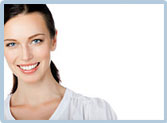 What is teeth bleaching?
Different products will perform different tasks in the world of tooth whitening and bleaching. Some products simply scrape off surface stains, other penetrate deep into the enamel to bleach the discoloration....
Read More


Different Types of Whitening
Different Types of Whitening
Brite Smile Brite Smile is offered in both private practices and in specialized spas in dozens of major cities around the country. If you're interested in the Brite Smile procedure,...
Read More

Zoom! laser Whitening
Many dentists now offer Zoom whitening in their office. Ask your dentist if he or she offers it. Zoom!, another revolutionary laser-whitening procedure became immensely popular after...
Read More