A popular study of debate: Is bleaching safe? While dental professionals will continue to debate this topic, consistent studies performed over the past 5 years have shown tooth whitening and bleaching to be completely safe.
Overall, despite minor side-effects like sensitivity or gum irritation, all bleaching and whitening methods are considered very safe.
The safest bleaching procedure you can take part it is one supervised by your own dentist - the person who knows your mouth better than you do. With so many in-office or take-home kits done by dentists, you have several options. Your dentist might send you home with a pre-molded tray and some bleaching gel. He also might have a laser system right in the office.
Other tooth whitening options are Over-The-Counter kits like stick-on strips and paint on bleaches are considered very safe - but they lack the custom designed trays your dentist will mold for you - sometimes resulting in more bleaching agent down your throat, than on your teeth.
Laser whitening systems at private spas are highly effective - but remember - you won't be seeing your own dentist. The person administering your bleaching agent and laser will have looked at your mouth for the first time that very day.
How much does teeth bleaching cost?
Because of the wide variety of options you have when exploring teeth bleaching, you can choose to pay as little as $4.00, or as much as a $2000.00. Obviously, your results are going to vary on this spectrum,...
Read More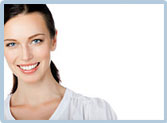 What is teeth bleaching?
Different products will perform different tasks in the world of tooth whitening and bleaching. Some products simply scrape off surface stains, other penetrate deep into the enamel to bleach the discoloration....
Read More


Different Types of Whitening
Different Types of Whitening
Brite Smile Brite Smile is offered in both private practices and in specialized spas in dozens of major cities around the country. If you're interested in the Brite Smile procedure,...
Read More

Zoom! laser Whitening
Many dentists now offer Zoom whitening in their office. Ask your dentist if he or she offers it. Zoom!, another revolutionary laser-whitening procedure became immensely popular after...
Read More