While they call this type of whitening "in-office" whitening, the fact is, this term usually applies to a whitening kit your dentist will have pre-mixed, pre-molded system that you will wear at night for a few consecutive days.
If your dentist
does not offer a in-office laser system, your dentist will probably take a mold of your mouth to create a whitening tray. This tray, along with a hydrogen peroxide based bleach will be sent home with you. The gel will be applied in the tray, and the patient wears the tray for several nights in a row. You should notice results immediately - and in a few days, your teeth will probably be whiter than you've ever seen them before.
Upon your follow
visit to your dentist, he may give you a fluoride treatment, or a special rinse, but in actuality, there is very little follow up to take home tray systems. The results should last several months, and simple one-night touch ups should keep your smile as white and bright as your original results.
How much does teeth bleaching cost?
Because of the wide variety of options you have when exploring teeth bleaching, you can choose to pay as little as $4.00, or as much as a $2000.00. Obviously, your results are going to vary on this spectrum,...
Read More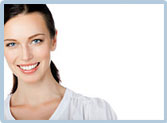 What is teeth bleaching?
Different products will perform different tasks in the world of tooth whitening and bleaching. Some products simply scrape off surface stains, other penetrate deep into the enamel to bleach the discoloration....
Read More


Different Types of Whitening
Different Types of Whitening
Brite Smile Brite Smile is offered in both private practices and in specialized spas in dozens of major cities around the country. If you're interested in the Brite Smile procedure,...
Read More

Zoom! laser Whitening
Many dentists now offer Zoom whitening in their office. Ask your dentist if he or she offers it. Zoom!, another revolutionary laser-whitening procedure became immensely popular after...
Read More